Froster Backwaren Polaris

Froster Bigschock Technodom

Froster Crio Chill Alpeninox

Froster Fantastick Carpigiani

Froster Freddy Irinox Home

Froster Friulinox Einfahrfroster

Froster Lukenfroster Viessmann




Froster Lukenfroster CP 40

Auftaukühlschrank

Backwaren Kühlschrank
Backwaren TK Schrank
Barkühlschrank
Blutkühlschrank
Chromatographie Kühlschrank
Dry Age Reifeschrank
Fleischreifeschrank

Energiespar Kühlschrank
Energiespar Tiefkühlschrank
Einfahrkühlschrank
Einfahrtiefkühlschrank
Eislagerschrank
Fleischschauschrank
Fischkühlschrank
Froster
Froster Polaris
Gärunterbrecher
Glastür Kühlschrank
Glastür Tiefkühlschrank
Gemeinschafts Kühlschrank
Kühlschrank Umluft V2a
Kühlschrank Umuft weiß
Kühlschrank stille Kühlung
Laborkühlschrank
Labortiefkühlschrank
Medikamentenkühler
Pralinenkühlschrank
Prüfklimaschrank
Rückstellprobenkühlschrank
Sahneklimaschrank
Solarkühlschrank
Tiefkühlschrank
Thermostatschränke
Tortenkühlschrankvitrine
Weinkühlschrank
Modell 1950-10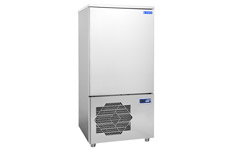 Modello: E10 codice 363A0100
E 10
BLAST CHILLER/BLAST FREEZER 10 TRAYS GN1/1 EN 60X40
BLAST CHILLING 90°C+3°C 28,00 KG/ BLAST FREEZING 90°C -18°C 18,00 KG
CORE PROBE included
PAN RACK SUPPORT
GRIDS NOT INCLUDED
Froster Techfrost zurück Übersicht Froster
MASTER
LINE
EntryLINE
Supreme LINE
Essential
LINE Kühlschrank
M5
M8
M10
M15
M18
M20
MCR20
MBF230
MBF420
MBF470
MBF520
MBF620
MBF720
MBF820
MBF920
JOF 923
JOF ONE
E3
E5
E8
E10
E15
E200
E400
SG30 2°C/+8 °C

-

SG32
SG35
SG40
SG78
SG80
EG30 2°C/+8 °C
EG32
EG35
EG40
EG78
EG80

M 5 5 GN

n. € 3.630,--

+

mwst 21


M 8 8 GN

n. € 4.630,--

+ mwst


M 10 10GN

€ 6.450,--

+ mwst


M 15 15GN

€ 7.590,--

+ mwst


M 18 18GN

€ 8.490,--

+ mwst
M 20 20GN

€ 8.590,--

+ mwst
JoF 923

€ 1.860,--

+

mwst 21
JoF One

€ 2.830,--

+ mwst
E 3 3 GN

€ 2.250,--

+ mwst


E 5 5 GN

€ 2.990,--

+ mwst
E

8 8 GN

€ 4.290,--

+ mwst
E 1

0 10GN

€ 5.150,--

+ mwst
E 1

5 15GN

€ 5.850,--

+ mwst
SG 30

€ 2.860,--

+ mwst
SG 32

€ 2.960,--

+ mwst
SG 35

€ 3.180,--

+ mwst
SG 40

€ 3.550,--

+ mwst
EG 30

€ 2.440,--

+ mwst
EG 32

€ 2.830,--

+ mwst
SG 35

€ 2.080,--

+ mwst
SG 40

€ 3.290,--

+ mws
Techfrost JOF-23: Vorteile des Schockfrosters
Vielfältige Anwendungen - Techfrost Schockfroster / Schockkühler sind in allen Bereichen der Gastronomie, Konditorei, Gelatineherstellung und Brotherstellung unentbehrlich, wo Arbeitszeit und Lebensmittelsicherheitsstandards eine wesentliche Rolle spielen.
Kompaktes Design - Der JOF-23 Schockfroster passt in jede Profiküche, auf Arbeitsplatten, unter Tische oder auf engem Raum.
Vielseitig - Verwenden Sie den JOF-23 sowohl als Schockfroster als auch als Schockkühler.
Langlebig - Der JOF-23 Schockfroster ist aus langlebigem, leicht zu reinigendem Edelstahl hergestellt.

JOF-923
Zubehör


INOX SHELF GN 2/3 - GASTRONORMBLECH INOX GN a€ 33,--

INOX GRID GN 2/3 - GITTER INOX GN 2/3 - a € 22,--

Die JOF-23 hat vier (4) Zyklen im Standardmodus: zwei (2) zum Abkühlen auf + 37 F und zwei (2) zum Einfrieren auf negative Temperaturen
30-40% energieeffizienter, mit schnelleren Kühlzeiten - alles unter Beibehaltung der Frische und des Duftes der Lebensmittel
Indirekte Luftverteilung und spezielles Luftstrommuster zur Gewährleistung einer perfekten Temperaturgleichmäßigkeit
Wischfestes Controller-Touchpad
System zur Erhaltung der Feuchtigkeit
Leicht zugängliche, waschbare Verdampfer, wasserdichte Ventilatoren und abnehmbarer magnetischer Kondensatorfilter

JOF-23

The tinyest and versatile blast chiller-blast freezer in the market, ideal and practical for any alimentary sector, this professional work instrument offers great performances in small spaces. Elegant also in the aesthetics and original also in the programming system, easy in its use.

Die kleinste und vielseitige Schnellkühler-Gebläse-Gefriereinheit auf dem Markt, ideal und praktisch für jede Nahrungssektor bietet das professionelle Arbeitsinstrument tolle Leistungen in kleinen Räumen. Elegante auch in der Ästhetik und ursprüngliche auch im Programmiersystem, einfach in der Anwendung.

JOF ONE

Blast chiller-freezer 3 trays GN 1/1 EN 600/400 with high performances and narrow encumbrances. Core probe of series included. Adjustable feet. Condensation drip tray. Operational electronics.

Schnellkühler mit Gefrierfach 3 Schalen GN 1/1 EN 600/400 mit hohen Leistungen und schmalen Belastungen. Kerntemperaturfühler der Serie enthalten. Höhenverstellbare Füße. Kondensationsauffangschale. Operational Elektronik.

E3

Blast chiller/blast freezer 3 trays GN 1/1, very compact, to be placed on a top counter. It finds space everywhere, small but powerful.

Schnellkühler / Schockfroster 3 Schalen GN 1/1, sehr kompakt, um auf einem Top-Zähler platziert werden. Sie findet überall Platz, klein aber mächtig.

E5

Simple and functional electronic, rational aesthetics, completely in steel inox AISI 304. Auto-closing door with heated magnetic gasket.

Einfache und funktionelle elektronische, relationale Ästhetik, komplett aus Stahl inox AISI 304. Auto-schließende Tür mit beheiztem Magnetdichtung.

E10

Easy to use and with performances much higher than average Manufactured entirely in stainless steel inox AISI 304

E15

Functional and powerful: manufactured entirely in stainless steel inox AISI 304, powerfult fans, evaporator treated with non-toxic protective coating, easy access to the fans for a complete cleaning, auto-closing door with heated door gasket.

K5

The classic blast chiller-blast freezer for excellence, easy in its use it finds application everywhere, both as counter or under oven. Manufactured entirely in stainless steel inox AISI 304 18/10. Automatic and manual hot gas defrosting. Control panel with HACCP functions and programs memorization, hard/soft blast chilling. Optional: height 850mm

K10

Designed for the medium volumes of product, optimal in the dimensions and in the performance. Removable pan rack in steel wire. Easy access to the fans and evaporator for a complete cleaning

K15

When the space and the requirements grow, it is the right machine for medium - big quantity of products, maintaining a high and constant quality. Ergonomic handle

TWENTY

A compact machine for the large volumes with built – in or remote unit until 20 trays in pastry and catering (optional 3HP remote unit).

S6

"S" LINE…"S" AS SUPERB!
Bigger than a traditional blast chiller/blast freezer it can easily fit up to 6 trays with a distance of 70 mm among each others. It is provided with an innovative techfrost system with reversed rack, which allows to use both gn1/1 and en600x400 trays, simply changing the position of the shelf. High performances thanks to a big condenser, which enables the minimum energy usage

S12

"S" LINE…"S" AS SUPERB!
Fit for product volume more considerable: perfect for gastronomy, pastry and gelato. Exclusive and massive model with a refined design: totally made of steel aisi304. Refrigerator unit sized for exclusive performances in its range.

S18

"S" LINE…"S" AS SUPERB!
A blast chiller/blast freezer designed to satisfy the medium/large needs of room, capacity and work-cycle.

FBF-230

For people who use the trolley in their own laboratory, ideal for the gastronomic organizations. Compact with small encumbrance. Remote condensing unit

FBF-420

The maximum powers for the blast chilling-blast freezing of a trolley of products; ideal for the professionals of the world of the catering and pastry.

FBF-520

The maximum powers for the blast chilling-blast freezing of a trolley of products; ideal for the professionals of the world of the catering and pastry.

FBF-620

The maximum powers for the blast chilling-blast freezing of a trolley of products; ideal for the professionals of the world of the catering and pastry

CONSERVATORI

AGP580 BT

With narrow encumbrances and with vital importance in any laboratory. It can accommodate till 30 gelato containers. Hot gas defrosting system.
High refrigerating performances HACCP functions

CONSERVATORI

G6080 TN

For a corrected and controlled ventilation of the product and for an indefatigable system at your service. Great capacity for the positive preservation, till 20 trays 600x800. Ideal to keep pastry and fresh products.

CONSERVATORI

G6080 TF

Born for the negative conservation of large quantity of product, thanks to its 900 liters of capacity and to a uniform system of ventilation that keep also after several hours the air structure and content of the gelato and pastry without losses of volume.

CONSERVATORI

GTEMP900

Differently than a normal blast chiller-blast freezer, the product can rest at a correct temperature of conservation without the necessity to move it at the end of the cycle. It allows to harden and conserve the gelato.

CONSERVATORI

NP900

PERFECT HUMIDITY CHOICE!


The innovative RHTechfrost® system let you reach the real humidity percentage chosen for the preservation of the products inside.
Techfrost ist,für Nutzer gerichtet, die eine zuverlässige Maschine zu einem erschwinglichen Preis wünschen.
Hergestellt aus Edelstahl AISI 304 18/10 Scotch brighted, innen und außen.
Möglichkeit Lagerung HACCP Messungen in Erinnerungen.
Die elektronische Steuerung bietet die Möglichkeit, die Zeit und Temperatur für die Explosion zu steuern Kühlen (+ 3 ° C im Kern in 90 min) und Tiefgefrieren (-18 ° C im Kern in 240 Minuten), Weich- und Hart Zyklus (thermal shock) und automatische Wartung nach dem Ende des Zyklus. Fähigkeit, Spitzentemperatur Programmiermodelle mit Temperaturspitze.
Sie sind speziell um den Benutzer zu erleichtern entworfen.
Die Temperatur in der Kammer erreicht -40 ° C
Gesundheit Ecken nach innen für einfache Reinigung.
Polyurethan-Isolierung
Der Temperatursensor mit Silikongriff versehen als Option für alle Modelle in der Tabelle unten.
Dichtung Silikon Tür geeignet für niedrigen Temperaturen.
Einfache Wartung Zugang.
Manuelles Abtauen.
Erhältlich 7 Modelle wie der folgenden Tabelle.
E 3 Froster 3 GN 1/1 7 5 0,72kW / 230V 600x805x460
netto € 2.150,--
+ mwst 2021
E 5 Froster 5 GN 1/1 18 9 1,00kW / 230V 820x700x900
netto € 2.950,--
+ mwst
E 8 Froster 8 GN 1/1 o 25 16 1,40kW / 230V 820x700x1280
netto € 4.150,--
+ mwst
E 10 Froster10 GN 1/1 28 18 2,40kW / 400V 820x800x1750
netto € 5.150,--
+ mwst
E 15 Froster 15 GN 1/1 45 27 3,40kW / 400V 820x800x1949
netto € 5.990,--
+ mwst
E 200 Froster 20 GN 1/1 90 65 3,00HP / 400V / REMOTE 1000x1135x2200
netto € 12.990,--
+ mwst
E 400 Froster 20 GN 2/1 180 145 7,50HP / 400V / REMOTE 1600x1243x2149
netto € 19.990,--
+ mwst